The Disabled Veteran's Story
THE SACRIFICES OUR WARRIORS AND THEIR FAMILIES MAKE EVERYDAY STANDING GUARD
This international bestselling book, shares the heartfelt, compelling stories of the legendary sacrifices and service of our veterans and their families. Urged to share these stories by the veterans, their parents, spouses, family members, and caretakers, Miguel Reece has collected firsthand detailed accounts from people you need to know. Their chapters in our history should never be forgotten or ignored; the spouse who had to start over seven different times following their military member; the daughter who changed schools nine times in twelve years, with the deep emotional scars of being bullied; –An amazing detailed account of surviving the beatings, starvation and disease as a captive prisoner of war (POW) camps in WWII and Korea, along with the vivid description of a the Korean POW's journey, intimate love story and nightmares, as shared by his widow, a chapter in our history that should be heard; the shattered dream of one of the first female pilots and her struggles with the glass ceiling a true reflection as to the intent of the WOMAN's MARCH around the world; or those who volunteered for the draft as a way out from many communities as well as the personal heart wrenching story of the bureaucratic journey of a veteran who left home to pave the way for his family, fought the VA for nine years for his entitled VA benefits, eventually dying of renal failure as a result of exposure to Agent Orange in Korea—are all page turning eye opening stories you will be amazed to read of those survivors, fighters and patriots from Pearl Harbor, Vietnam, Iraq and Afghanistan and the Ohio National Guardsman at Kent State struggles.  The veterans and their families' sacrifices is just not a word—it is a committed act of great value in the line of service to the world which is often forgotten or ignored. Sacrifices is not just a word-it is a committed act of great value in the line of service to the world and deserves of action and acknowledgement.
READ ON WITH RESPECT AND COMPASSION
ABOUT THE AUTHOR
MR MIGUEL REECE
PUBLISHED AUTHOR
Major Miguel Reece is a military veteran with more than thirty years of service as both an enlisted member and an officer in the U.S. Air Force. He served in Vietnam and the Middle East, as well as a member of Stabilization Forces in the Balkans.
Major Reece was born in the Panama Canal Zone. He has a bachelor's degree from Southern Illinois University and a master's degree from Webster University, St. Louis, Missouri. After thirty years in the Air Force, he served for ten years with the Department of Veterans Affairs.
Major Reece enjoyed working with veterans, their families and making a difference in the lives of those beneficiaries. He often visited veterans with their families or caretakers in their homes, nursing homes, assisted-living facilities, relatives' homes, under bridges, in parks, or even in a tree house. He aspires to share these chapters in our history with the world and educate a new generation or remind society of the sacrifices the American veterans and their family endured for the freedom of this nation and not to allow their stories to be forgotten or ignored. Those compelling, heartfelt, first-hand accounts of sacrifices were recognized as an International Best Seller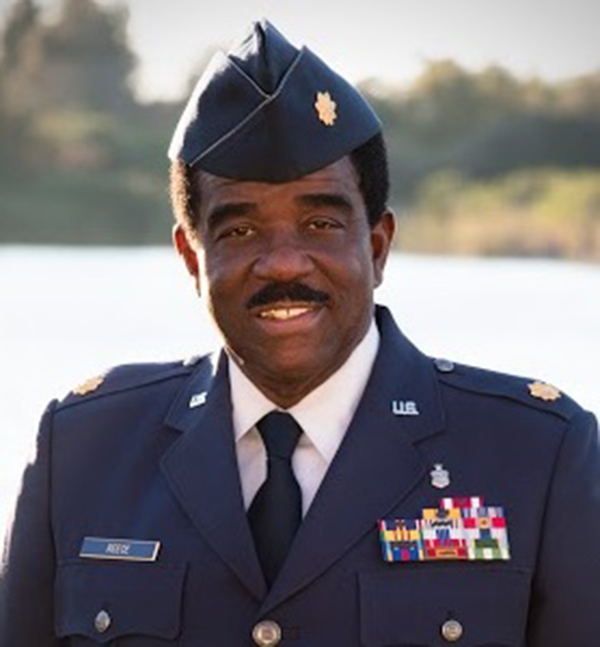 TESTIMONIALS
THE SACRIFICES OUR WARRIORS AND THEIR FAMILIES MAKE EVERYDAY STANDING GUARD
Dear Major Reece:
Thank you for sharing your book with us. We have no greater honor than working with our troops, veterans and their families. Each day, we are moved by the commitment and dedication of veterans like you and we can all draw inspiration from stories of courage, strength and perseverance.
Thank you for the book, Miguel and for your service to our Nation.
We wish you all the best.
Sincerely,
-Michelle Obama
My Father was a WW2 veteran and these stories were so touching and educational it truly helped me to understand what he went through and that he had PTSD. Knowing what heroes these veterans are was moving and very much left me wanting to appreciate their efforts more. I will thank every person in uniform from now on!!!
– Judy Whitman
This is a remarkable book for any American to read. This book has real life events included that no one should forget. The title speaks for itself and should be remembered by all. All I can say is wow!
– Kenneth Bracewell
CONTACT US
For booking, service or questions call (813) 295-1300
Or send us feedback/testimonials/questions